Solar Panel System Benefits
Top Benefits of Going Solar in Phoenix, Arizona
Here you will learn about the top benefits and reasons why people go solar in the Phoenix area.
Saving Money – An Explanation of Electricity Billing and Solar Savings
Homeowners that go solar with Phoenix Solar Panel Systems have the capability of saving at least 20% on their monthly and yearly electricity costs. Some homeowners can save up to 60% by going solar! We cannot guarantee the amount of savings you will have, but we can explain how people save money and educate our customers on how to save the most amount of money.
A Kilowatt Hour (kWh) is the metric used by utility and solar companies to measure energy use. The kWh should not be confused with Kilowatts (KW), which is a metric used to measure the size of a solar system.
Homeowners that use a high amount of energy will have higher bills from their utility company. Utility companies generally charge for usage (the amount of energy taken from the grid), and then they add various fees and taxes on top of the usage charge. Often these taxes and fees increase as the usage increases. The way electric utility companies bill their customers is quite confusing, but solar billing is much more straight forward.
A typical home in the Phoenix area uses between 10,000 to 20,000 Kilowatt Hours per year.
You can look at solar savings in this way: The amount of money you pay per KwH is less with solar than what your utility company sells it to you for.
For "Example A", a 2,500 square foot home that uses 20,000 kWh per year will pay the Arizona Public Service utility (APS) approximately 15 cents per kWh used (with all usage charges, taxes, and fees included), which equals $3,000 per year for energy costs. If that same homeowner goes solar at 10 cents per kWh, and the solar system covers over 100% of their energy use, the homeowner now will pay $2,000 per year for energy costs, which equals a savings of $1,000 per year, or $83 per month, or 34% on electricity costs.
For "Example B", a 1,000 square foot home uses 7,000 kWh per year with APS and that equals $1,050 per year in energy costs. When the homeowner goes solar, their new energy costs are $700 per year. The savings are $350 per year, or $29 per month, or 34% on energy costs.
For "Example C", a 5,000 square foot home uses 35,000 kWh per year with APS and that equals $5,250 per year in energy costs. When the homeowner goes solar, their new energy costs are $3,500 per year. The savings are $1,750 per year, or $146 per month, or 34% on energy costs.
As you can see, all of the homeowners have the same PERCENTAGE OF SAVINGS, but the AMOUNT OF SAVINGS varies based up on how much energy each home uses.
Also see our pages on Energy Usage and Home Energy Efficiency Upgrades for more information on what affects a home's usage of energy.
Go Solar & Save Up to
60%*

on Your Monthly Electric Bills
Protect Against Rising Energy Costs from the Utility Company
Arizona utility companies typically raise their rates about 2% to 6% per year on average.
The national average for rising utility rates is about 2% to 3% to keep up with rising inflation. The Phoenix area utilities Arizona Public Service (APS) and Salt River Project (SRP) raise their rates more than the national average.
Homeowners are powerless to these rate increases if they choose to continue having all their energy provided by the utility company. There's nothing you can do to stop the utility companies from raising their rates.
The only option to protect yourself from these rising rates is going solar to lock in your energy costs.
When you go solar, you will take out a solar loan or pay cash for the system. The solar system you purchase will generate a certain amount of power every year for your home to use. When you divide the yearly cost for solar by the Kilowatt Hours produced by the system per year, you will find the solar energy is less expensive than the energy you buy from the utility company.
Your monthly payments for solar never go up for the entire term of your loan (typically 20 to 25 years). Once you have paid off the loan, the energy your solar system produces is FREE!
Meanwhile, your neighbors that didn't go solar are paying the utility company 2% to 6% more per year, every year, and their cost per kWh continues to rise forever.
Going solar is like being able to lock in gas prices at 99 cents 20 years ago, and still be paying 99 cents per gallon of gas today, while everyone else pays $4.00 per gallon!
Better for Budgets
Going solar stabilizes the amount of money paid per month for electricity costs.
In the Phoenix area, with the heat we have, homeowners can pay $50 in the winter and $600 in the summer. For many families, the high bills in the summer are difficult to afford and budget for.
After going solar in APS, your APS utility bill is typically very low or eliminated completely. That means that you pay the same amount of money for your electricity all 12 months of the year, which is much easier to predict and budget for.
In SRP, your SRP utility bill will be lowered significantly. That means you pay the amount per month for the solar system and much lower amount to SRP. So, you don't have large, unpredictable payment spikes in the summer and your total payments for electricity each month remain relatively even.
Government Incentives
The Federal Government pays for 26% of the total solar system cost through their tax credit program.
Arizona pays for $1,000 of the total solar system cost through their tax credit program.
See our page on Solar Tax Credits for more information on the tax credits and how to utilize them.
Time of Use Plans Eliminated in APS
Arizona utilities typically have time-of-use plans where the cost of electricity is double or tripled between the hours of 3:00PM to 8:00PM during the week. The utility companies do this intentionally to make more money because these are the hours Arizona families need energy the most.
In APS, since it is typical for all your energy to be supplied by your solar system, you no longer have to be at the mercy of APS's unreasonable time-of-use plans because you no longer need to purchase energy from APS.
This allows Phoenix area homeowners to run their air conditioning at their desired temperature all day long and run their appliances whenever they want to.
Solar gives people the freedom to live how they want to and be more comfortable in their home.
Increase the Value of your Home
Better for the Environment
APS and SRP use outdated energy generation methods like coal power plants to generate energy.
Coal power plants produce an enormous amount of air pollution that creates severe environmental and public health problems. The pollution is known to cause cancer, heart and lung disease, asthma, neurological problems, global warming, and acid rain.
Every year, a coal plant emits "114 pounds of lead, traces of uranium, and 720 tons of carbon monoxide. Also, 220 tons of hydrocarbons are released, which trigger reactions that form ozone at low altitudes. A plant also releases 225 pounds of arsenic in a year, a carcinogenic compound that affects drinking water. If there are 50 parts per billion of arsenic or more in a water sample, one in 100 people may get cancer by drinking it."
"The deadliest type of power plant is coal, which accounts for 2.8 to 32.7 deaths per 10 kilowatt-hours."
"Coal power plants emit three times as much pollution as cars." (https://blog.arcadia.com/15-key-facts-statistics-power-plant-pollution/)
Solar power is a clean, renewable energy source that does nothing to harm the environment. In addition, recent studies show that solar power is much less expensive than even the cheapest coal competitors.
A home's carbon footprint is the number of pounds of carbon dioxide (CO2) a home produces each year. On average, homeowners that install solar lower their carbon footprint by 21,000 pounds every year!
If you have any questions about the benefits of going solar, please feel free to call us at (602) 753-0560.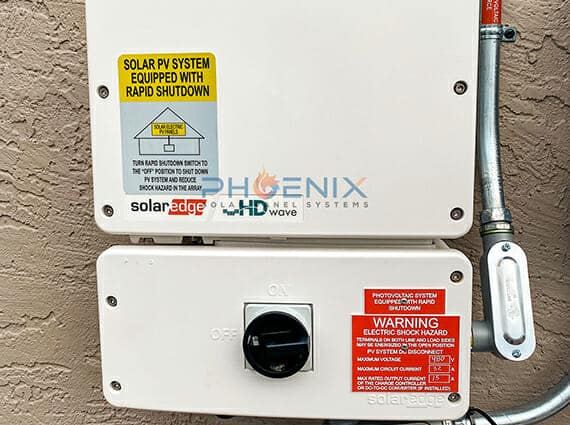 Contact Us Today For a Get a Free Quote
If you have any questions about adding home energy efficiency upgrades into your solar loan, please feel free to call us at
(602) 753-0560
.
We're so confident we can find the right solution for your solar needs we'll come to your home and walk you through all the options at no cost.
Book a Free Home Solar Consultation Now!