Solar Energy Home Improvement Loans
Adding Home Energy Efficiency Improvements to your Solar Loan in the Phoenix, Arizona Area
Here we will discuss the opportunity and benefits of adding energy efficiency improvements in your solar loan in the Phoenix, Arizona area.
Generally
Solar loans currently have historically low interest rates. Due to these loans having favorable 20 to 25-year terms, the monthly payments on anything included in the solar loan are very affordable.
You can add anything into the solar loan that adds to the energy efficiency of your home.
An added benefit to adding home energy efficiency improvements into your solar loan is that the federal government offers tax credits and rebates when you purchase these items. Currently the Federal government provides a 26% solar tax credit called the Residential Energy Efficient Tax Credit for solar systems and roofing work related to a solar system installation. This credit is 26% of the total amount financed for the loan.
The Federal government also provides the Nonbusiness Energy Tax Credit which contains two parts:

A 10% tax credit for Qualified Energy Efficient Improvements such as insulation, exterior windows and skylights, exterior doors, and metal and asphalt roofing.
A $300 tax credit for Residential Energy Property Costs such as electric heat pump water heaters; electric heat pumps; and central air conditioners.

Upgrading your home with energy efficient items also saves you more money because you end up using less energy which results in you buying less energy from the utility company! Also, Phoenix Solar Panel Systems can build you a smaller, less expensive solar system because your home will be using less energy after the upgrades than used historically.
Go Solar & Save Up to
60%*

on Your Monthly Electric Bills
The following home upgrades can be provided by Phoenix Solar Panels Systems as part of your solar system purchase:
Home Energy Efficiency Upgrades and Reduction of Energy Usage
Sealing Air Leaks
A large amount of cold air is lost in the summertime, and hot air in the winter, due to air leaks throughout the home. We will apply caulk, weather stripping, and spray foam to these areas to prevent air from leaking.
Sealing air leaks can reduce energy usage from 5% to 30% and provide for a much more comfortable home.
LED Lighting
We will replace the lighting in your home with energy efficient LED lighting where possible. Lighting comprises 11% of a home's energy costs.
Using LED lighting can reduce lighting energy use by 50% to 75%.
Insulation
Even after air leaks are patched up, a home will still lose a lot of cold air in the summer, and warm air in the winter, through the walls and attic if it is not properly insulated. Insulation is one of the fastest and most affordable ways to reduce your home's energy usage.
The average homeowner can save 15% on heating and cooling costs by adding insulation in the attics and crawl spaces of their homes.
Air Conditioning Units
In the Phoenix area, the air conditioning unit uses much more energy than any other system in your home. An old AC unit can may need to draw two or three times more electricity to cool a home when compared to a modern energy efficient AC unit.
Upgrading your AC unit can reduce your energy usage from 20% to 50%.
Windows, Doors, and Skylights
Modern doors and windows greatly reduce the amount of cold and heat loss in a home. About 20% to 50% of air is lost through older windows, doors, and skylights.
Upgrading your windows, doors, and skylights can reduce cold and heat loss by 25% to 50%.
Smart Thermostats
Smart Thermostats such as Nest are programmable and will also learn your behavior.
By using the GPS on your home, you can set these thermostats in the summer to increase the temperature when you leave the home and decrease the temperature when you are returning to your home. They also learn your energy use habits and optimize your temperature schedule to use the last amount of energy possible.
Smart thermostats can save you up to 10% on your heating and cooling bills.
Seal Ducts
Many air duct systems are not insulated or connected properly and have acquired holes and leaks over the years. Having a professional analyze and fix the duct system, in addition to using products like Aeroseal to fix holes and leaks, can reduce air loss by 60%.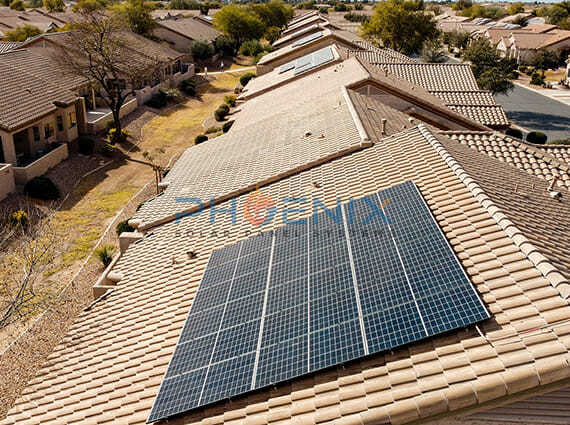 Modern Water Heater
Heating water accounts for 12% of your utility bill. Adding a high efficiency tank water heater or an electric tankless water heater can substantially reduce your energy usage.
Homeowners can also turn down the thermostat on their water heater to increase savings.
Contact Us Today For a Get a Free Quote
If you have any questions about adding home energy efficiency upgrades into your solar loan, please feel free to call us at
(602) 753-0560
.
We're so confident we can find the right solution for your solar needs we'll come to your home and walk you through all the options at no cost.
Book a Free Home Solar Consultation Now!