Frequently Asked Questions for Solar Systems in Phoenix, Arizona
These are common questions and concerns asked and expressed by our customers before they make the decision to go solar in Phoenix, Arizona: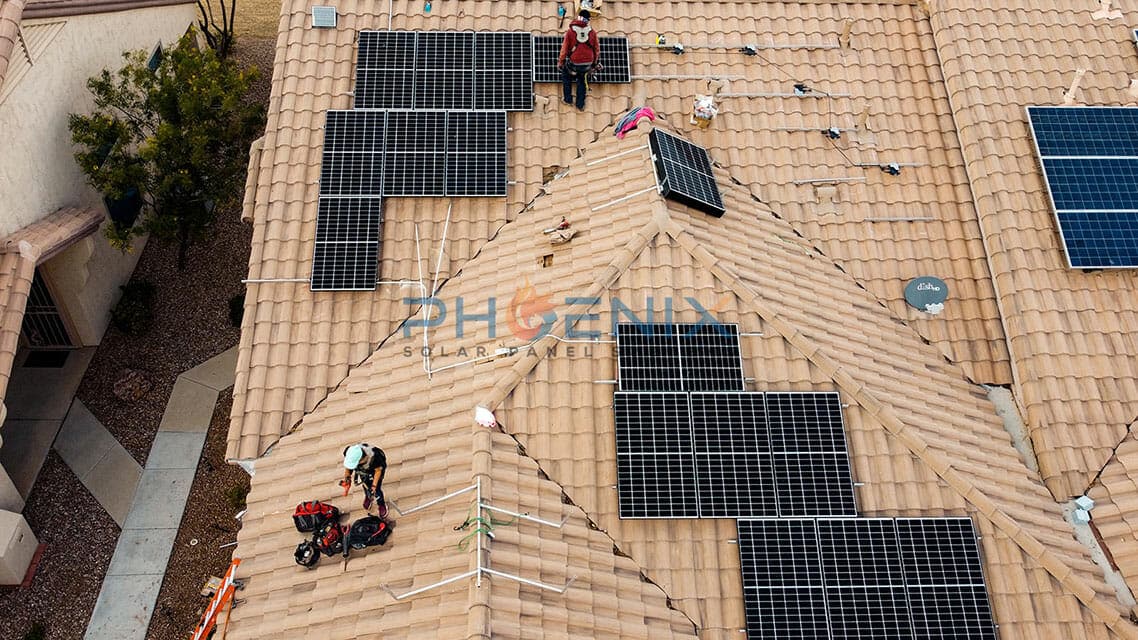 Frequently Asked Questions
Where is Phoenix Solar Panel Systems located?
We are a local company located in Phoenix, Arizona.
Do you sell solar battery backup/storage?
We sell the Tesla Powerwall. Please visit https://www.tesla.com/powerwall for more information and call us at (602) 753-0560 to setup a consultation and get a quote on this product.
Do you offer discounts?
We offer discounts for military service, police and fire officials, medical personnel, and large families. Please consult with your solar representative to learn more.
What happens during my solar consultation? Can you do virtual consultations?
Typically, solar consultations are done at the customer's home with a solar representative. The representative is there to educate the homeowners on residential solar panel technology and explain the benefits of going solar. The representative will analyze your current electricity usage from your most recent utility bill, so please have that ready at the time of your consultation. With that usage information, the representative will custom build a solar system on your home using software and then let the homeowners know how much money they can save by going solar. The homeowners have to opportunity to ask any questions during this meeting.
Consultations typically last between 30 minutes and an hour-and-a-half depending on how many questions the homeowners have.
We do provide virtual consultations using web video technology.
I don't have a lot of time. How much of my time will it take to sign up for a solar system?
The great thing about going solar with Phoenix Solar Panel Systems is that we take care of EVERYTHING for you.
How much time you spend is really up to you. We are happy to spend many hours at your home and on the phone answering your questions. We are always available to you when you have a question or concern.
If you don't wish to ask any questions, all we need is about a half an hour of your time to present the cost savings to you and sign the documents related to the sale of your solar system.
After you sign, we literally handle every aspect of installing and turning on your solar system, and no more of your time is needed.
In fact, you don't even need to be at your home for the site inspection and installation of your solar system if you don't want to be!
The reality is that everyone has the time to go solar because so little time is needed from our customers to complete the entire buying process.
What if we plan on selling our home and/or moving in the near future?
If you plan on being in the home for another year or more, you will still see a lot of savings from going solar.
Our customers typically save $500 to $2,000 on their energy costs in the first year after going solar.
How much money you save in the first year depends on many different factors including the size of your home, your family's energy use habits, and the utility solar price plan you choose.
Those with high utility bills will save more money by going solar than those with low utility bills, but the percentage of savings is typically the same across the board.
If you plan on moving out of your home, but keeping the home as a rental property, going solar will increase the value of your home and the low utility costs will be an attractive incentive for renters.
If you plan on selling the home within six months, purchasing a solar system is probably not right for you, as you will not see much benefit in the short time you will remain in the home.
I don't like how the solar panels look on my roof. Can you do ground mounting or put the solar panels anywhere else?
Most people that initially have reservations about the aesthetics of solar panels on their roof decide that the cost savings outweigh the perceived "bad look".
Many customers enjoy the look of solar panels on their home, as it provides the home with a modern, updated look.
We use the most modern and aesthetically pleasing black-on-black panels available on the market today.
In many cases, based on the orientation of the home, the solar panels cannot even be seen from the front of the home or the street.
Typically, the solar panels cannot be seen on homes that are two stories or more.
Some customers decide to build or purchase a structure, such as a metal car covering or storage container, to place their solar system on. Solar panels can be installed on many different types of structures, as long as the structure can hold the weight of the solar panels.
Mounting the solar panels on the ground is an option, however the extra costs involved typically outweigh the benefits.
I've heard that going solar costs a lot of money.
The reason why so many people in the Phoenix area have already gone solar is they save money on their electricity.
Every customer of Phoenix Solar Panel Systems has the capability of saving AT LEAST 20% on their monthly energy costs by going solar. Some customers have saved up to 60% per month!
Most solar customers take out a special solar loan to finance their solar system. These loans have incredibly low interest rates, are partially subsidized by the government, and are spread out over long terms to make the monthly payments low and affordable.
The total amount of the solar loan may be perceived by some as "a lot of money", but the loan amount pales in comparison to how much money the homeowner will pay if they don't go solar and stay with the utility as their sole source of electricity.
Customers that go solar have the capability of saving between $50,000 to $200,000 over a 20-year period when compared with buying electricity from the utility company alone without a solar system.
Are my bills high enough to see a benefit from going solar?
Because the savings with solar are best expressed as a percentage of what the homeowner was paying with the utility, those with high utility bills will save more money by going solar than those with low utility bills.
Homeowners with average electricity bills of $100 or more per month (averaged over 12 months) are great candidates for saving money by going solar.
Homeowners with average electricity bills of less than $100 per month will save money by going solar, but the savings may not be enough to justify the purchase. There are other benefits to going solar besides cost savings, such as benefits to the environment, that may compel homeowners with low utility bills to go solar anyways.
Do I have enough roof space to go solar?
Sometimes, especially with homes that are two stories or more, roof space becomes a concern when looking into solar.
Homes with two stories or more typically have the same roof space as a single story, but more people are living there and more space must be cooled by the air conditioner in the summer, which results in more energy usage.
Each solar panel generates a certain amount of energy, and if the roof space isn't big enough to match the home's energy usage to the solar generation of electricity, this can be a concern.
The good news is that home's with high energy usage will typically see a cost savings by putting any number of solar panels on the roof, even if that number of panels produces below the "optimal" level of electricity.
We also have upgraded solar panels that produce more energy (watts) per panel but take up the same amount of space, and we use these upgraded panels when roof space is a concern to match the energy generation to the home's usage.
I met with solar companies in the past and they couldn't save me money.
The residential solar industry is always changing. For example, loan interest rates before COVID were always 3.99% and above. When COVID came in 2020, solar loan interest rates dropped to 0.49%!
As time goes on, the material used in solar systems continues to drop in price, which translates to lower prices for homeowners.
Government and utility incentives for going solar are always changing. For example, the Federal Government's tax credit was supposed to drop to 22% in 2022, but at the end of 2021, the government then decided to extend the 26% tax credit until the end of 2022.
Pricing will vary between solar companies, and this depends on many factors. Phoenix Solar Panel Systems is known for their affordable pricing and it is likely they can beat the last quote you received from a competitor.
I don't want to enter into a 20-year or 25-year loan AND I'm too old to go solar because I will die soon.
If you keep the utility company as your sole source of electricity, you will pay that utility company every month for the rest of your life. Your solar loan payments have an end date, but your payments to the utility company do not.
Homeowners in Maricopa county typically spend three to seven years in each home. That's why solar loans have been intentionally made to be easily transferable to the buyer when you sell your home. It is not typical that someone purchasing solar will pay on the loan for the entire term. When the home is sold, the buyer will take over the solar loan and the original homeowners name will be removed from the loan. The original homeowner will not have any liability or responsibility to pay the solar loan after selling the home.
The same concept applies to a homeowner that passes away during the loan term. The loan will be transferred to whoever buys the home or inherits the home and these new occupants can enjoy the cost savings of solar.
There are loans available that are less than 20 years, however these are not typical because the homeowner will usually pay more per month with a 15 (or less) year loan than they did with the utility company. 25-year loans are the most popular because it allows homeowners to save the most amount of money while they are in the home and while they are on this planet.
I don't believe the technology is good enough for me to go solar. I'm going to wait it out.
At this point, the solar panels are as thin as they can possibly get, and they are mounted as low on the roof as possible.
The only direction technology is going with solar systems is that more electricity production capability is being put into each panel.
However, the new panels with more production capability cost much more than the older panels with less production capability, and therefore solar companies rarely use the latest and greatest panels.
The only benefit you will have by waiting for technology to advance is that in the future you will need 18 panels on your roof instead of 20 panels. The cost savings for buying two less panels will pale in comparison to the cost savings you will enjoy by going solar now and ceasing the purchase of 100% of your energy from the utility.
Going solar now is the right decision because interest rates are at a historic low and the rate at which the utilities buy solar energy from homeowners continues to drop every year. Homeowners must act now to lock in their buy back rate!
Can my homeowner's association (HOA) stop me from going solar?
In 2003, the Arizona Court of Appeals ruled that it is unlawful to prevent a homeowner from installing solar panels on their home.
This law on this is located here: Arizona Revised Statutes 33-439
How much electricity does a residential solar system produce?
Solar systems produce about 1,750 kilowatt-hours (kWh) per year per kilowatt (kW) rating of the system. The typical system is around 7 kW, so that system will produce about 12,250 kWhs per Production also depends on what components are used in the system and the orientation of the roof to the sun.
How long will my solar system last?
We provide 25-year end-to-end warranties on your entire system when it is installed, but the solar systems typically last much longer than the 25-year period.
Just because the manufacturers warranty on your car ends after four (4) years does not mean your car will stop working then. The same is true for solar panel systems.
Can I install my own solar system?
A project to install a complete solar system on a home is a large endeavor that, when professionally managed, involves many experts from different fields. The salesperson will know what type of system is appropriate for your home based on years of experience. The draftsman knows how to create a professional design for the solar system. The engineers understand building a fire codes and other legal implications of installation.
There are people employed at solar companies whose entire job is to submit permit application packages to the various cities in the Phoenix area, and they have been doing it for years, as this is not a simple process to learn.
Other administrative workers submit applications to the local utility companies.
After permit approval, a host of professional engineers, contractors, and administrative workers are involved in ensuring the solar system is installed safely and professionally on the home, and then guaranteeing the system is interconnected to the utility and working properly. A solar system installed improperly poses a serious safety and fire hazard not only to the home it is attached to, but to all the neighbors in the area. This is why Arizona law mandates that the city and utility approve every solar panel installation before it is turned on.
In summary, the process to install a solar panel system is very complex and there is no manual or internet website that will take homeowner through all the steps in detail. A homeowner may be able to figure everything out and install it over a period of many years, but at that point the homeowner will have spent far more money and time than they would have if they hired a professional company to install their solar system.
Just like any large home improvement project, it is best to leave it to the professionals that have many years of experience.
If you any more questions that are not listed here, please feel free to call us at (602) 753-0560.
Contact us to schedule a consultation to discuss the right solar panel system solution for your home.
Book a Free Home Solar Consultation Now!