Going Solar in Arizona Public Service (APS) Territory in Phoenix, Arizona
Here we will discuss going solar in Arizona Public Service (APS) territory in the Phoenix area.
Generally
Going solar makes a lot of financial sense for homeowners in APS territory. Due to APS's high electricity rates, customers that choose to generate their own rooftop solar power can save a substantial amount of money.
APS is a private company, which means they come under the regulation of the Arizona Corporation Commission (ACC).
The ACC's role is to regulate public utilities, grant or deny rate adjustments, and set Arizona's clean-energy rules.
When a home with solar produces extra energy that is not used immediately, the extra energy is sent to APS's grid. APS then sells this energy to their other customers and credits the generating homeowner's bill for supplying the APS grid with power. The rate at which APS credits homeowners for sending power to the grid is known as the "buyback rate" or "solar export rate".
APS's buyback rates are shown below. As you can see, the buyback rates drop every year, so you should install your solar system now to lock in your buyback rate!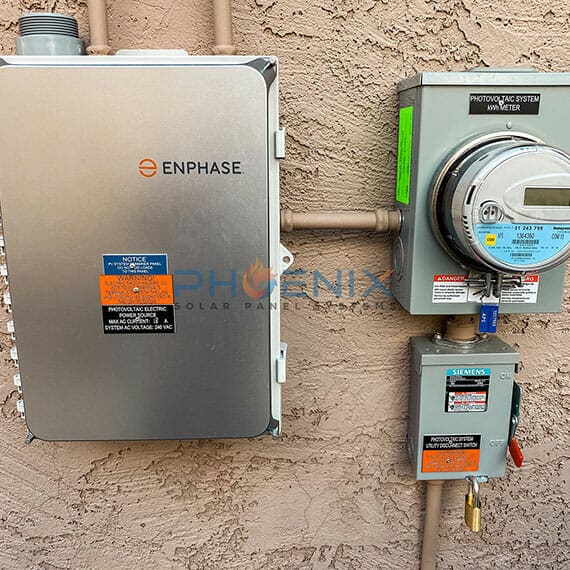 | | | | |
| --- | --- | --- | --- |
| Tranche 2017 | September 1, 2017 through September 30, 2018 | $0.12900 | per kWh |
| Tranche 2018 | October 1, 2018 through September 30, 2019 | $0.11610 | per kWh |
| Tranche 2019 & 2020 | October 1, 2019 through September 30, 2021 | $0.10450 | per kWh |
| Tranche 2021 | October 1, 2021 through August 31, 2022 | $0.09405 | per kWh |
Go Solar & Save Up to
60%*

on Your Monthly Electric Bills
APS offers relatively high "buyback" rates when compared to the other Phoenix area electric utility Salt River Project (SRP), which means that Phoenix Solar Panel Systems builds larger systems in APS so customers can take advantage of these high "buyback" rates.
In APS, we aim to build solar systems that produce 100% to 115% of the home's historical energy use over the last 12 months with the goal of maximizing our customer's savings.
The amount of savings our solar customers will see in APS depends on which APS rate plan they choose and how they use energy after their solar installation. Going solar is a not a license for a family to use as much energy as they want. The family must still be responsible and aware of how APS bills customers to save the most amount of money possible.
We cannot guarantee a certain amount of savings because what APS solar price plan is chosen and how the occupants use energy really dictates the costs and savings of electricity.
However, we will guide the customer to choose the right APS solar price plan and educate the customer on how to save the most amount of money by appliance and energy use management.
APS has three (3) rate plans for customers that go solar. We discuss these rate plans in detail on another page of our website.
When choosing a rate plan, homeowners must be honest with themselves on whether they can adhere to a strict schedule and regiment of major appliance usage. Those who want the freedom to use their energy and appliances whenever they please should choose the Saver Choice plan because it has the least amount of cost penalties for using large amounts of energy all at once.
APS has 10 holidays where off-peak rates apply all day long. If these holidays fall on a Saturday, the preceding Friday will be off-peak. If they fall on a Sunday, the following Monday will be off-peak.
New Year's Day
Martin Luther King Jr. Day
Presidents Day
Cesar Chavez Day
Memorial Day
Independence Day
Labor Day
Veterans Day
Thanksgiving Day
Christmas Day
If you have any questions about going solar in APS territory, please feel free to call us at
(602) 753-0560
.
We're so confident we can find the right solution for your solar needs we'll come to your home and walk you through all the options at no cost.
Book a Free Home Solar Consultation Now!